So the last day came. The plan was to get cleared away and be off by 2pm or so. No such luck.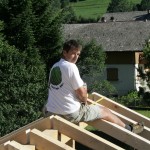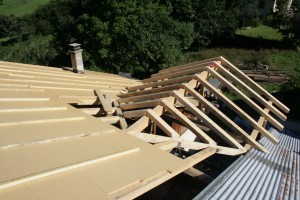 I finished the Dormer, but there was simple no time to do the sarking.
It took a good few hours to batten it all down and screw bits of wood in every hole I could seal for the weather. We finally finished and made an escape at 10:30pm.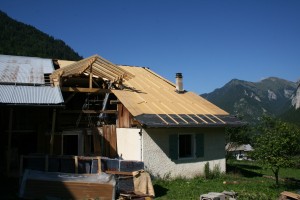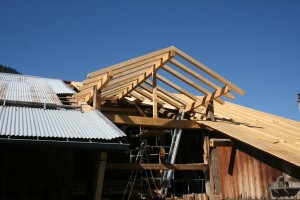 We drove all night long and made the channel tunnel by about 8am. We were soon back in wonderful England. A quick stop in Sidcup to pick up Monika's car and see Great Grandma. Having picked up a parking ticket in Sidcup, I made my way toward Sheffield. No money for the Dartford Crossing, so I was threatened with a police escort to a cash point. Luckily I found some Euros and they took them. (700 miles through France, tolls all the way and I can pay with a card … not in England). Traffic jams all the way to Sheffield, then I buy some sensible clothes for my sales presentation in Manchester the next day.
Finally some sleep. Up the next morning and Rob and I plan the presentation, and we're off over the Snake Pass to Manchester. The presentation goes well and we're in the pub for a debrief. Then it's back on the road to Exeter. 5 hrs, 1126 miles and one sales presentation later and it's over. Sleep.